YHF Markers Page Under Renovation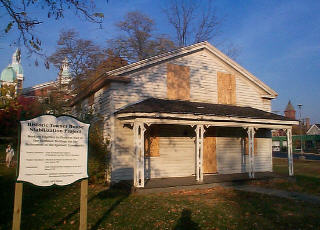 Since 1977, the YHF Historic Structure marker awards program has recognized more than 150 homes, businesses, churches, and other community buildings in Ypsilanti for significant historic architecture and continuing, sensitive maintenance.
Owners of structures that meet certain criteria are recognized for their efforts and YHF Historic Structure Markers are awarded in order to publicly identify buildings of special merit. The nomination committee criteria is:
• The building is within the boundaries of the City of Ypsilanti
• The building predates 1970 and has an identifiable architectural style
• The building is well and appropriately maintained (maybe it has just been rehabilitated)
• The grounds are maintained
• If it is a rental property, the property has had appropriate maintenance for at least two years
• The building has been developed sensitively
The following example gives an idea of what is meant by "appropriate maintenance":
• The siding on the building is what was originally intended or could have been used originally (vinyl siding on a 19th century building is never appropriate)
• The windows are original or identical to the original in size and configuration
• Porches, railings and steps are appropriate to the period and style of the building
• Any additions are compatible
Suggested nominations are welcome. One-of-a-kind markers are possible in order to recognize the preservation and stabilization of a significant or high-profile building that has had a history of mistreatment. These will be selected after a case-by-case review.