2021 YHF Historic Building Marker Awardees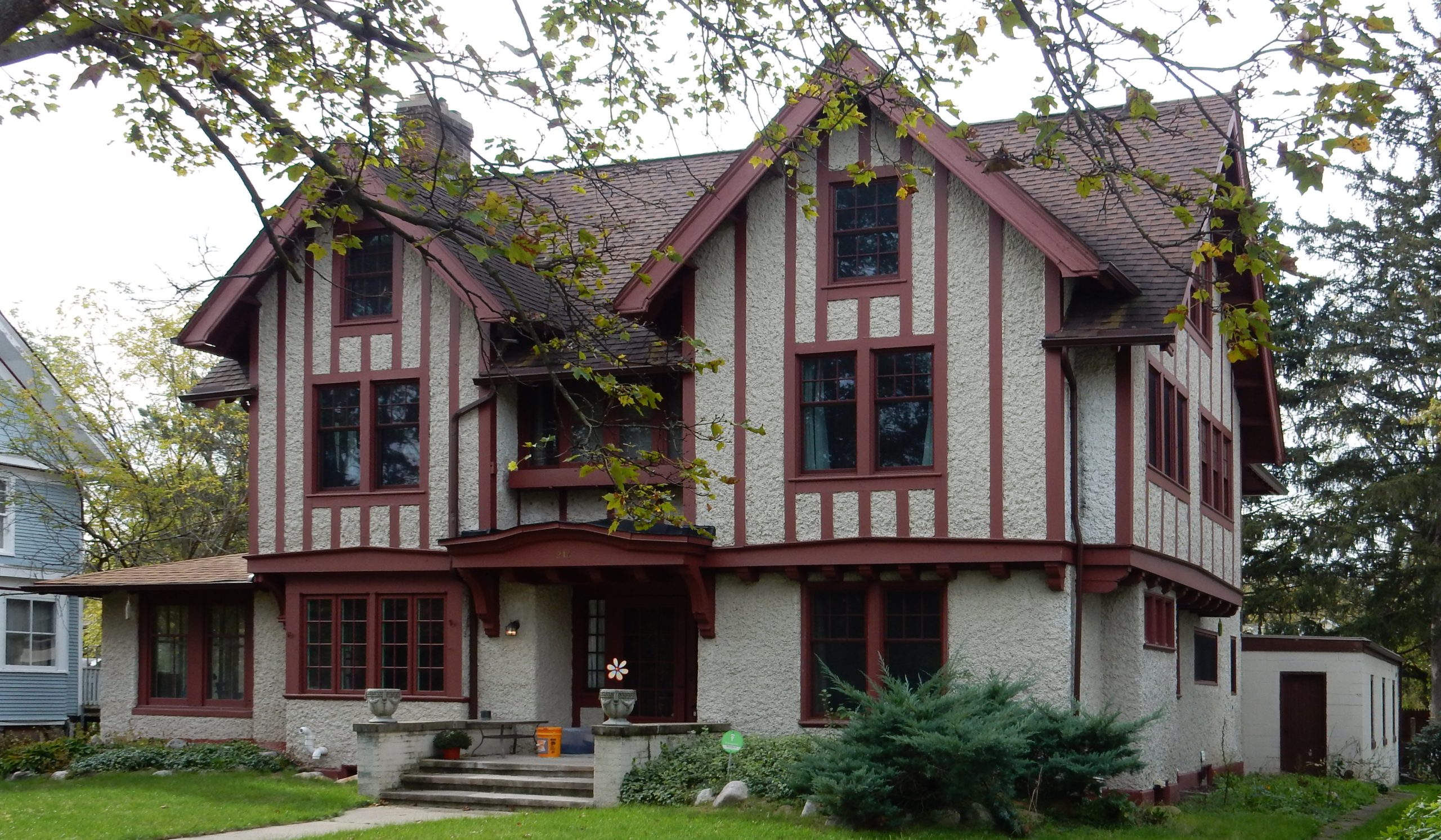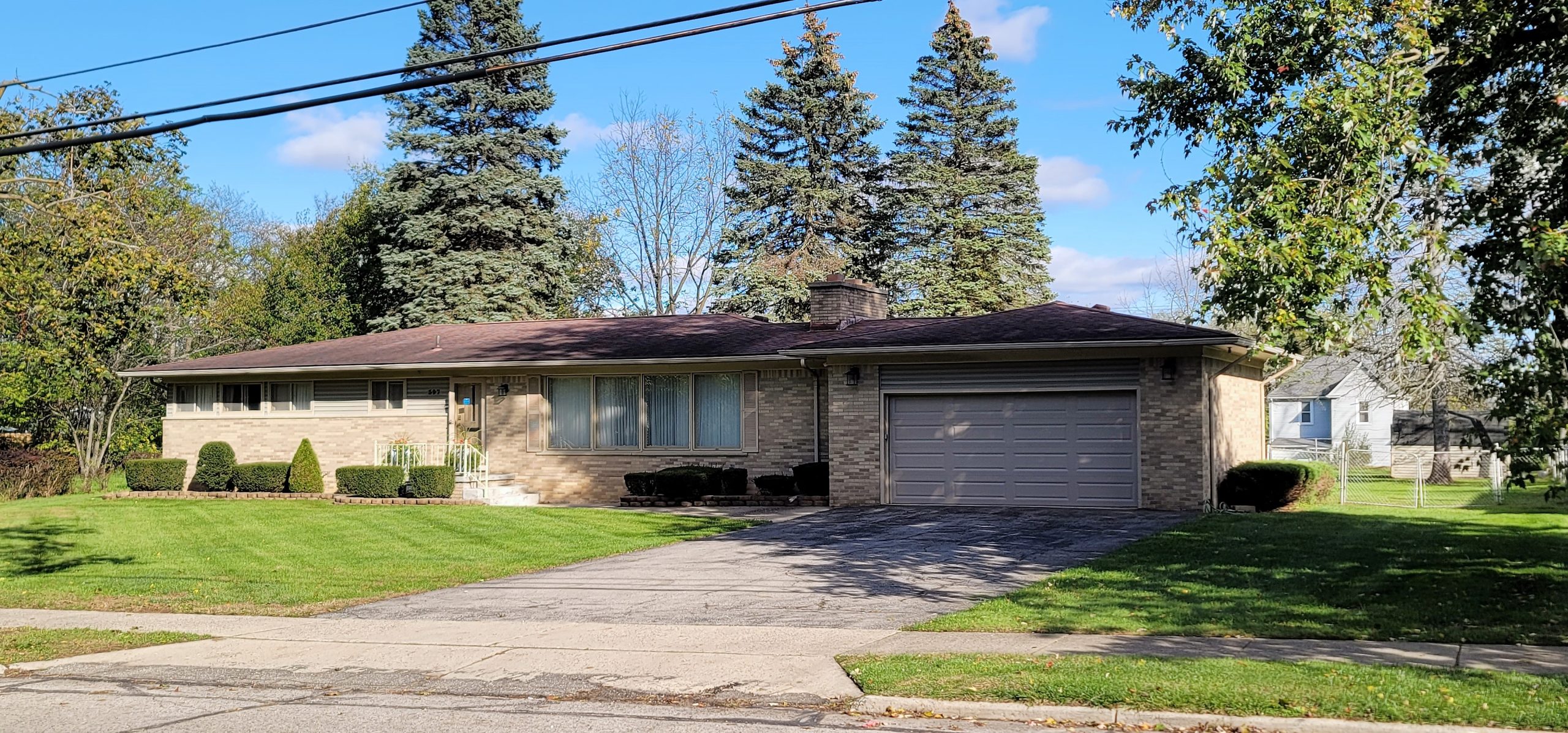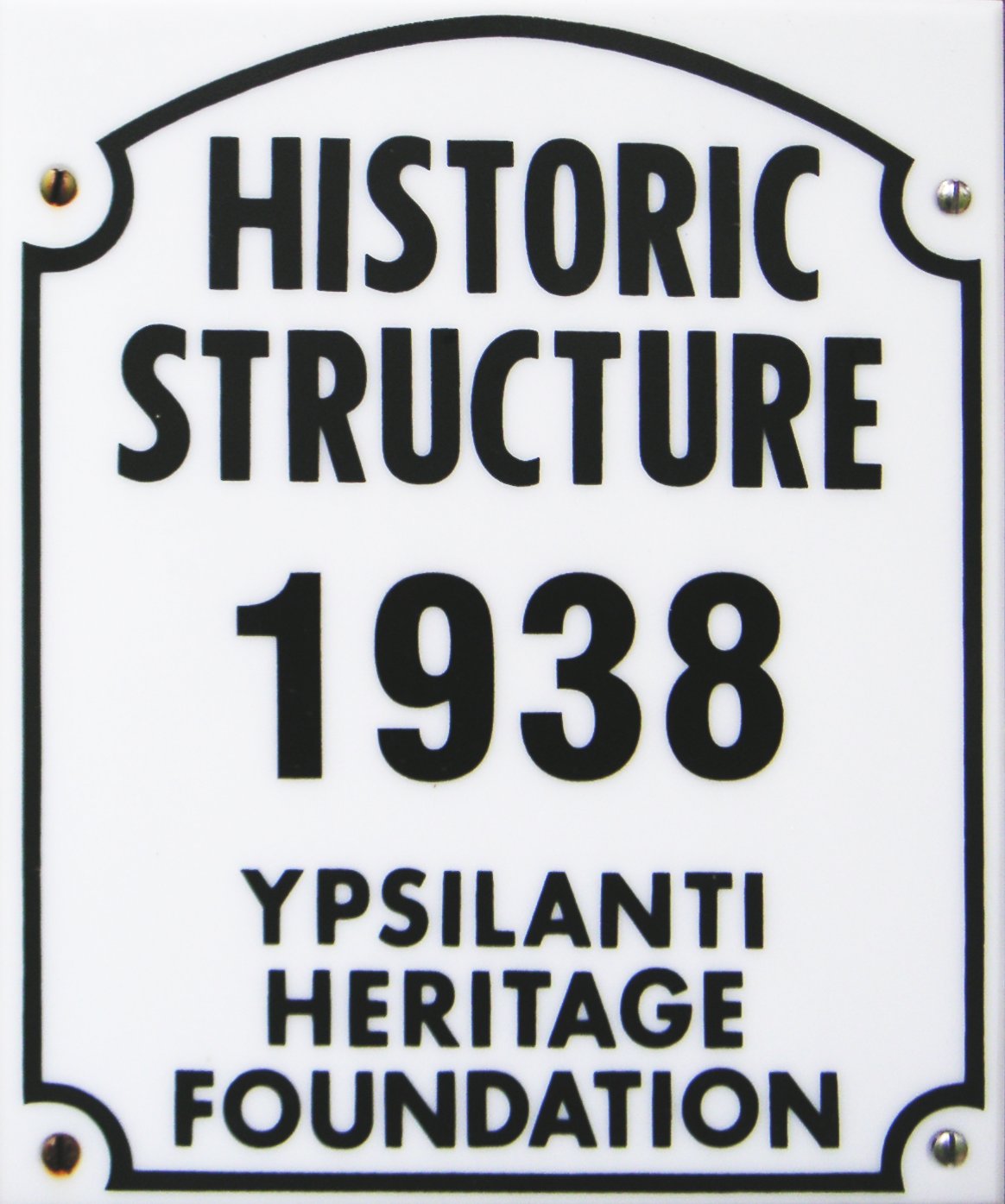 Since 1977, the YHF Historic Structure marker awards program has recognized more than 200 homes, businesses, churches, and other community buildings in Ypsilanti for significant historic architecture and continuing, sensitive maintenance.

Owners of structures that meet certain criteria are recognized for their efforts and white YHF Historic Structure Markers are awarded to publicly identify buildings of special merit. The nomination committee criteria are:
The building must be at least 50 years old and within the boundaries of the City of Ypsilanti
The building must have an identifiable architectural style or have a significant place in the history of the City of Ypsilanti
The building exterior and the surrounding grounds must be well maintained
Additions or changes to the exterior of the building are consistent with the architectural style of the building
Over time, some buildings with YHF Historic Building markers may not meet some of these criteria. The YHF encourages owners of historic buildings to maintain these properties to show off the pride and historic heritage of the City of Ypsilanti.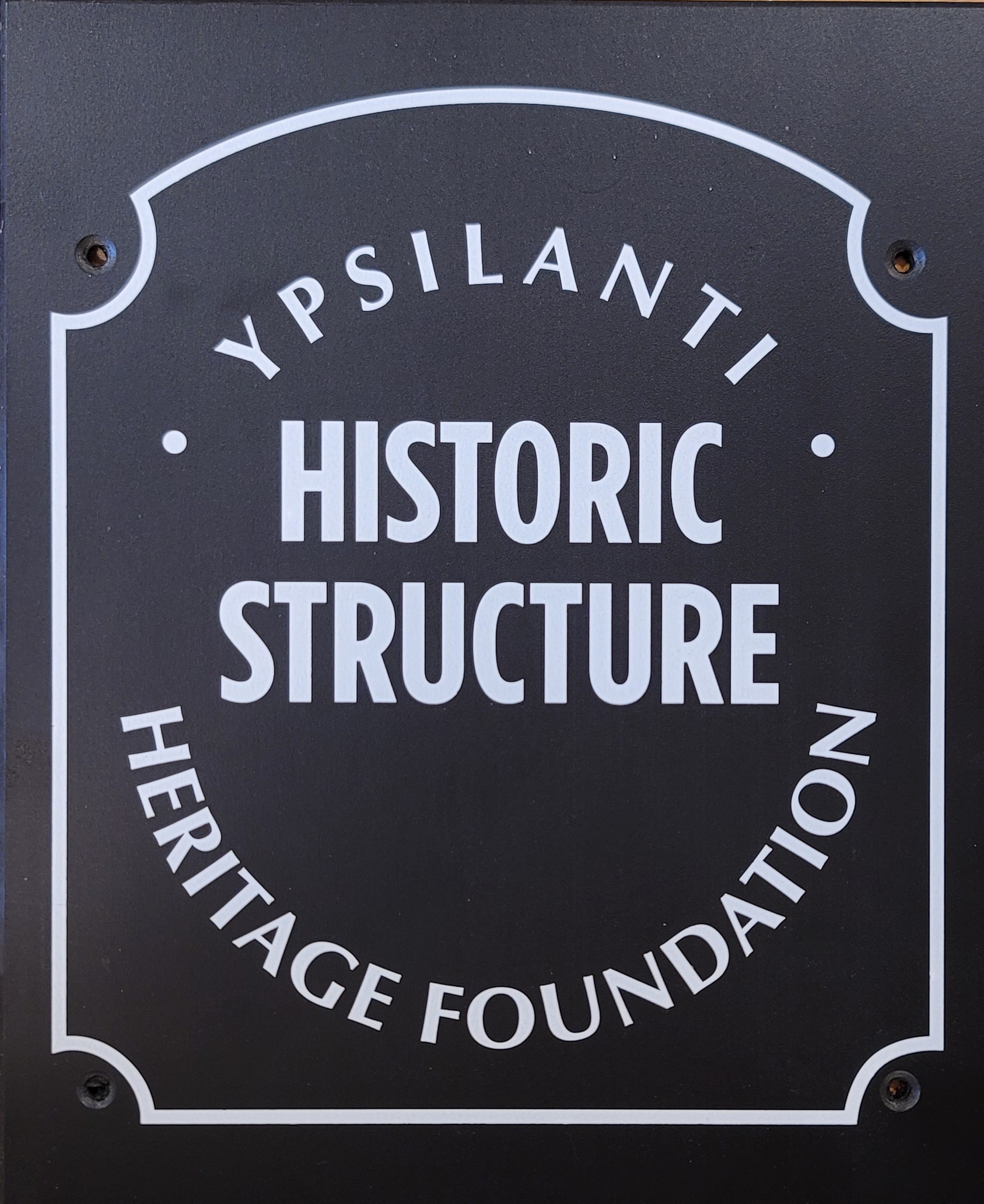 Historic outbuildings such as carriage houses, barns, and sheds may be eligible for a black outbuilding YHF Historic Structure Marker. The black markers are intended to recognize historic outbuildings as part of the history of the entire property and encourage their preservation.

If you wish to make a nomination for a YHF Historic Building marker, please contact Paul Schreiber (paulschreiber@comcast.net) with the address and any history of the building.
YHF Historic Structure Marker List
Address
Year
Built
Architectural Style
Photo
Date
YHF
Marker
Award
Year
411 Locust-Outbuilding
Barn
Gambrel roof
Wood exterior
2021.08.16
2021
397 Second
1965
Ranch 1935 – 1975
Hipped roof
Brick exterior
2021.10.26
2021
216 S. Washington
1910
Tudor 1890 – 1940
Side-gabled roof with façade gables
Stucco exterior with half-timbering
2021.10.22
2021
400-412 N. River
c. 1861
Italianate Commercial 1840 – 1885
Brick exterior
Windows with hood molding
Renovation after 2009 fire
2021.07.20
2020
113 Buffalo
1892
Queen Anne 1880 – 1910
Cross-gabled roof
Stone, brick, and wood exterior
Gable trusses and half-timbering
2021.10.22
2019
1266 Huron-River-Drive
1849
Greek Revival 1825 – 1860
Front-gabled roof
Wood exterior
2011.01.08
2019
421 N. Huron
1920
Tudor 1890 – 1940
Front façade gable with gambrel roof
Stucco exterior
2022.03.09
2019
217 Woodward
1910
Queen Anne 1880 – 1910
Front-gabled gambrel roof and wing
Wood exterior
2021.10.22
2018
1843 Collegewood
1965
Ranch 1935 – 1975
Side-gabled roof
Brick exterior
2011.06
2018
304 E. Forest
1869
Greek Revival 1825 – 1860
Front-gabled roof and wing
Wood exterior
2020.10
2018
301 N. Grove-Outbuilding
Garage
Flat roof
Wood siding exterior
c. 2018
2018
409 Oak
1890
Folk Victorian 1870 – 1910
Front-gabled roof and wing
Wood exterior
2020.10
2018
302 Oak-Outbuilding
Carriage House
Flat roof
Wood exterior
c. 2018
2018
1306 W. Cross
1952
Ranch 1935 – 1975
Side-gabled roof
Brick exterior
2004.11
2017
111 E. Forest
1927
Craftsman 1905 – 1930
Hipped roof American foursquare
Wood exterior
Fullerton Sears House
2005.02.05
2017
220 S. Huron-Outbuilding
Carriage House
Side-gabled roof
Brick exterior
2021.10.22
c. 2017
203 Jarvis
1905
Folk Victorian 1870 – 1910
Front-gabled roof
Wood exterior
Shotgun or worker's cottage
2020.10
2017
160 N. Washington-Outbuilding
Carriage House
Flat Roof
Brick exterior
c. 2017
2017
221 S. Washington-Outbuilding
2017
401 S. Adams-Church
c. 1901
Gothic Revival Church 1840 – 1880
Cross-gabled roof
Brick exterior
Square tower
2021.10.22
c. 2016
601 W. Cross
c. 1895
Queen Anne 1880 – 1910
Hipped roof with cross gables
Wood exterior and detailing
2021.11.08
2016
113 E. Cross-Outbuilding
Shed
Front-gabled roof
Vertical wood siding
c. 2016
2016
302 N. Hamilton
c. 1898
Colonial Revival 1880 – 1955
Hipped roof
Wood exterior
2022.03.10
2016
305 S. Huron-Outbuilding
Shed
Side-gabled roof
Horizontal wood siding
2016
2016
306 S. Huron-Outbuilding
2016
1009 Pearl
1925
Tudor 1890 – 1940
Side-gabled roof with façade gable
Brick and stucco exterior
2021.09.27
2016
1210 Pearl
c. 1929
Tudor 1890 – 1940
Side-gabled with decorative front gable
Brick exterior
2021.09.27
2016
211 Woodward
1895
Queen Anne 1880 – 1910
Hipped roof with cross gables
Wood exterior and detailing
2021.10.22
2016
209 N. Huron
1921
Tudor 1890 – 1940
Cross-gabled roof
Stucco half-timbered exterior
Brick chimney detailing
2021.10.06
2015
213 N. Adams
1880
Stick 1860 – 1890
Cross-gabled roof
Wood exterior and detailing
Stickwork on front gable
2021.10.06
2015
30 S. Normal
c. 1906
Colonial Revival 1840 – 1955
Gambrel roof
Wood shingle exterior
2021.10.03
2015
1206 Whittier
c. 1930
Colonial Revival 1880 – 1955
Side-gabled roof
Wood exterior
2020.10
2015
1005 W. Cross
c. 1893
Queen Anne 1880 – 1910
Cross-gabled roof
Wood exterior and detailing
Porch spindlework
c. 2005
2014
1105 W. Cross
c. 1937
Tudor 1890 – 1940
Side-gabled with decorative front gable
Stone and wood exterior
2004.11
2014
57 E. Forest
1893
Queen Anne 1880 – 1910
Front-gabled roof
Wood exterior and detailing
2020.10
2014
101 E. Forest-Outbuilding
c. 1873
Carriage House
Flat Roof
Brick exterior
Undated
2014
422 N. Hamilton-Outbuilding
2014
301 S. Huron
1939
Tudor 1890 – 1940
Centered front gable
Brick exterior with brick and stone detailing
Massive chimney at front
2004.04
2014
1 Oakwood
1893
Colonial Revival 1880 – 1955
Side-gabled gambrel roof
Wood exterior
2021.09.15
2014
1008 Pearl
1923
Colonial Revival 1880 – 1955
Side-gabled roof
Wood exterior
2021.09.27
2014
114 Woodward-Outbuilding
Garage
Side-gabled roof
Horizontal wood siding exterior
Undated
2014
505 N. Hamilton
1888
Queen Anne 1880 – 1910
Cross-gabled roof
Wood exterior and detailing
2022.03.10
2013
32 S. Normal
1893
Queen Anne 1880 – 1910
Front-gabled roof
Wood exterior and detailing
Extensive porch detailing
2021.10.03
2013
106 N. Adams-Outbuilding
Carriage House
Side-gabled roof
Horizontal wood exterior
2013.05.13
2013
12 W. Ainsworth
1920
Craftsman Vernacular 1905 – 1930
Gable-front roof and Wing
Wood exterior
Hipped gable ends (jerkinheads)
Shed window in roof
2021.10.03
2013
408 E. Cross
1912
Queen Anne Vernacular 1880 – 1910
Front-gabled roof
Wood exterior
2006.01.14
2013
324 W. Forest
1858
Italianate 1840 – 1885
Hipped roof with cuppola
Brick exterior
2022.03.10
2013
409 Oak-Outbuilding
Craftsman Garage 1905 – 1930
Hipped roof
Horizontal wood exterior
Undated
2013
1029 Washtenaw
1900
Queen Anne 1880 – 1910
Cross-gabled roof
Wood exterior and detailing
Classic porch columns
2004.11.12
2013
12 E. Forest
1901
Commercial Building
Front-gabled roof
Stucco exterior
2020.11
2012
306 N. River
c. 1850
Commercial Storefront
Flat roof
Brick exterior
2004.04.14
2012
2 W. Michigan
1927
Italian Renaissance 1890 – 1935
Flat roof
Brick and stone exterior and detailing
Originally Art Deco before alterations
2004.04
2012
308-312 N. River
c. 1840
Italianate Commercial 1840 – 1885
Brick exterior
Window pediments and drip moldings
2004.04.14
2012
100 E. Cross
c. 1870
Commercial Building
Side-gabled roof
Brick exterior
2021.07.20
2012
100 Market-Pl
1878
Commercial Freight House
Front-gabled roof
Brick exterior
2021.07.20
2012
720 Norris
c. 1948
Commercial Building
Flat roof
Brick exterior and detailing
2020.10
2012
417 N. Adams-Outbuilding
Garage
Front-gabled roof
Vertical wood siding exterior
Undated
2011
310 N. Hamilton
c. 1894
Colonial Revival 1880 – 1955
Side-gabled with center gable
Wood exterior
2022.03.10
2011
305 S. Washington
c. 1926
Colonial Revival 1880 – 1955
Side-gabled roof
Stucco exterior
2021.10.22
2011
205 S. Washington-Outbuilding
2011
216 N. Washington-Outbuilding
Carriage Barn
Flat roof
Wood exterior
2021.10.06
2010
1104 Pearl
1924
Craftsman 1905 – 1930
Side-gabled roof
Wood exterior
Porch addition c. 2009
2021.09.27
2010
957 Sherman
1926
Tudor 1890 – 1940
Side-gabled roof with façade gables
Wood and stucco exterior
Half-timbering on stucco
2021.09.17
2010
407 E. Forest
c. 1923
National Folk House 1850 – 1930
Side-gabled roof
Wood exterior
2020.11
2010
113 Buffalo-Outbuilding
Carriage House
Front-gabled roof
Brick exterior
2021
2010
306 Jarvis-Outbuilding
Shed
Front-gabled roof
Cobblestone exterior matching the house
2022.03.10
2010
206 Oak
c. 1901
Italianate 1840 – 1885
Hipped roof
Wood exterior
2004.04.24
2010
1 Oak-Outbuilding
c. 1973
Dollhouse
Front-gabled roof
Cobblestone exterior
c. 2010
2010
600 Roosevelt
c. 1933
Tudor 1890 – 1940
Side-gabled roof with façade gables
Brick and stone exterior
Half-timbered front gable
2021.06
2010
206 N. Washington-Outbuilding
Carriage House
Front-gabled roof
Horizontal wood siding exterior
c. 2010
2010
210 N. Washington-Outbuilding
Carriage House
Flat roof
Wood siding exterior
2022.05.04
2010
1303 Westmoorland
c. 1940
Colonial Revival 1880 – 1955
Side-gabled roof
Wood exterior
2019.07
2010
204 Elm
c. 1926
Prarie 1900 – 1920
Side-gabled roof
Brick exterior with side-facing front door
2021.09.17
2009
120 N. Adams
1905
Prarie 1900 – 1920
Hipped roof
Brick and stucco exterior
2021.10.06
2009
518 Fairview
c. 1925
Tudor 1890 – 1940
Side-gabled roof with façade gable
Stucco exterior with half-timbering
c. 2005
2009
313 Maple
c. 1880
National Folk House 1850 – 1930
Front-gabled and wing
Wood exterior
2004.04.18
2009
305 Oak
1893
National Folk House 1850 – 1930
Side-gabled roof with front gable
Wood exterior
c. 2009
2009
28 S. Prospect-Bortz
c. 1920
Italian Renaissance Commercial 1890 – 1935
Brick and stone exterior
2021.06
2009
18 S. Normal
1927
Tudor 1890 – 1940
Hipped roof
Brick and stucco exterior
Half-timbering on stucco
2021.10.03
2008
310 Hiawatha
c. 1933
Tudor 1890 – 1940
Side-gabled roof with façade gables
Brick exterior with wood trim
2021.09.17
2008
1206 Westmoorland
1949
Ranch 1935 – 1975
Side-gabled roof
Brick exterior
2005.04.09
2008
210 W. Michigan
1870
Italianate Commercial 1840 – 1885
Brick exterior
Windows with hood molding
2004.03.22
2008
119 N. Adams-Outbuilding
Carriage House
Side-gabled roof
Horizontal wood siding exterior
c. 1989
2008
213 E. Cross-Outbuilding
Carriage House
Front-gabled roof
Wood siding exterior
2008
2008
215 E. Cross-Outbuilding
Carriage House
Side-gabled roof
Wood siding exterior
2008
2008
309 W. Cross-Outbuilding
Carriage House
Side-gabled roof
Vertical wood siding exterior
c. 2008
2008
324 Oak
1850
Greek Revival 1825 – 1860
Front-gabled roof and wing
Shingle exterior
2004.04.24
2008
106 S. Washington-Outbuilding
Carriage House
Side-gabled roof
Vertical wood siding exterior
c. 2008
2008
112 S. Washington-Outbuilding
Carriage House
Front-gabled roof
Horizontal wood siding exterior
c. 2008
2008
427 Ballard-Outbuilding
Carriage House
Side-gabled roof with front gable
Vertical wood siding exterior
2022.03.10
2007
313 E. Cross-Outbuilding
Carriage House
Side-gabled roof
Horizontal wood siding exterior
c. 2007
2007
511 Fairview
c. 1934
Tudor 1890 – 1940
Side-gabled roof with façade gables
Brick exterior and stone detailing
Craftsman eave brackets
2004.12
2007
216 N. Grove
c. 1910
Queen Anne Vernacular 1880 – 1910
Front-gabled roof and wing
Brick and wood exterior
2004.02.25
2007
310 N. Grove-Outbuilding
Carriage House
Front-gabled roof
Horizontal wood siding exterior
c. 2007
2007
206 N. Huron-Outbuilding
Carriage Barn
Hipped roof
Horizontal wood siding exterior
2021.10.06
2007
216 S. Huron-Outbuilding
Carriage House
Side-gabled roof
Horizontal wood siding exterior
2021.10.06
2007
314 Maple-Outbuilding
Carriage House
Front-gabled roof
Horizontal wood siding exterior
2007
2007
323 Maple-Outbuilding
Carriage House
Front-gabled roof
Vertical wood siding exterior
2007
2007
133 W. Michigan
c. 1860
Italian Renaissance Commercial 1890 – 1935
Flat roof
Brick and stone exterior and detailing
2022.03.09
2007
169 N. Washington-Outbuilding
Carriage House
Front-gabled roof
Brick exterior
c. 2007
2007
1203 Whittier
c. 1938
Tudor 1890 – 1940
Side-gabled roof with façade gable
Brick exterior
2020.10
2007
904 Pleasant
1931
Tudor 1890 – 1940
Side-gabled roof with façade gables
Brick exterior with brick and stone detailing
2005.04.16
2006
110 North
1890
Queen Anne 1880 – 1910
Front-gabled roof
Wood exterior and detailing
2005.02
2006
206 S. Washington
1837
Neoclassical 1895 – 1955
Front-gabled roof
Brick and wood exterior
Greek Revival to Neoclassical conversion in 1939
2021.10.22
2006
109 North
1917
Craftsman 1905 – 1930
Side-gabled roof
Wood exterior
2005.02
2005
321 High
c. 1939
Colonial Revival Vernacular 1880 – 1955
Side-gabled with centered front gable
2004
2005
101 E. Forest
c. 1873
Italianate 1840 – 1885
Front-gabled roof and wing
Brick exterior
Vergeboard decoration at gable ends
2004.12.27
2005
1120 Pearl
c. 1928
Colonial Revival 1880 – 1955
Side-gabled false gambrel roof
Wood exterior
2021.09.27
2005
306 S. Huron
c. 1888
Italianate 1840 – 1885
Side-gabled roof with centered front gable
Wood exterior
Dominant window pediments
2005.04
2004
302 Oak
c. 1860
Italianate 1840 – 1885
Hipped roof foursquare
Wood exterior
2004.04.24
2004
8 S. Summit
c. 1883
Queen Anne 1880 – 1910
Hipped roof with cross gables
Wood exterior and detailing
Porch spindlework
Eave with hipped end (jerkinhead)
2021.06.24
2004
702 Collegewood
c. 1926
Colonial Revival 1880 – 1955
Side-gabled false gambrel roof
Wood exterior
2005.04.09
2003
126 W. Michigan
c. 1853
Commercial Storefront
Flat roof
Brick and wood exterior
2021.10.06
2003
1307 Westmoorland
c. 1939
Colonial Revival 1880 – 1955
Side-gabled roof
Stone and wood exterior
2004.12.27
2003
110 N. Park
c. 1907
Colonial Revival 1880 – 1955
Hipped roof
Wood exterior
2004.02.25
2003
203 N. Washington
c. 1900
Queen Anne 1880 – 1910
Hipped roof with cross gables
Wood exterior and detailing
Porch spindlework
2021.10.06
2002
318 W. Forest
c. 1876
Italianate 1840 – 1885
Hipped roof
Brick exterior
2022.03.09
2002
11 W. Michigan
1888
Richardsonian Romanesque 1880 – 1900
Hipped roof with cross gables
Brick exterior and detailing
2022.03.09
2002
213 Oakwood
c. 1890
Queen Anne 1880 – 1910
Hipped roof with cross gables
Wood exterior and detailing
2004.11
2002
210 W. Cross
1915
School Building
Flat roof
Brick and stone exterior
Polygonal tower
2021.10.06
2001
619 E. Forest
c. 1921
Colonial Revival 1880 – 1955
Side-gabled roof
Wood shingle exterior
2004.06.20
2001
306 Oak
c. 1850
Greek Revival 1825 – 1860
Front-gabled roof and wing
Wood exterior
2004.04.24
2001
619 Vought
c. 1927
Craftsman 1905 – 1930
Front-gabled roof
Wood exterior with stone porch and chimney
2003
2001
1035 Washtenaw
1927
Craftsman 1905 – 1930
Side-gabled and hipped roof
Wood and stucco exterior
2004.11.12
2000
204 E. Cross
c. 1901
Queen Anne 1880 – 1910
Cross gabled roof
Wood exterior
Free classic porch columns
2004.03
2000
1 S. Huron
1884
Richardsonian Romanesque 1880 – 1900
Flat roof (hipped roof and upper story removed)
Stone and brick exterior
Cheese grater exterior removed
2021.10.06
2000
314 Maple
c. 1880
National Folk House 1850 – 1930
Front-gabled roof and wing
Wood exterior
2006.01.14
2000
208 Elm
1932
Tudor 1890 – 1940
Side-gabled roof with façade gables
Brick exterior and detailing
2021.09.17
1999
601 Emmet
c. 1870
Gothic Revival 1840 – 1880
Side-gabled roof with centered gable
Wood exterior
2021.11.08
1999
501 Holmes-Drive-In-Restaurant
c. 1953
Commercial Drive-In Restaurant
Flat roof
Stone and brick exterior
1999
1999
629 Osband
1923
Minimal Traditional 1935 – 1950
Single story Cape Cod
Wood exterior
1999
1999
102 N. Wallace
1927
Craftsman Vernacular 1905 – 1930
Hipped American foursquare roof
Wood exterior
2021.09.27
1999
310 S. Huron
1865
Italianate 1840 – 1885
Hipped roof
Brick exterior
Italinate detailing removed after 1935 fire
2005.04
1998
501 W. Forest
c. 1870
National Folk House 1850 – 1930
Front-gabled roof and wing
Wood exterior
2022.03.10
1998
316 N. Grove-Outbuilding
Carriage Barn
Front-gabled roof
Horizontal wood siding exterior
1930 modification
2007
1998
212 S. Huron-Outbuilding
c. 1860
Italianate 1840 – 1885
Flat roof
Brick exterior
Brick cornice detailing
2021.10.22
1998
101 N. Wallace
1927
Tudor 1890 – 1940
Centered front gable
Brick and stucco exterior
Centered front gable with chimney
2021.09.27
1998
17-25 E. Cross
1858
Italianate Commercial 1840 – 1885
Brick exterior
Windows with pediments
2021.07.20
1997
402 E. Cross
c. 1894
Italianate 1840 – 1885
Hipped roof
Wood exterior
2002
1997
913 Congress
c. 1918
Craftsman 1905 – 1930
Cross-gabled roof
Wood exterior with stone porch and chimney
2021.09.15
1997
214 N. River
c. 1910
Queen Anne 1880 – 1910
Hipped roof with cross gables
Wood exterior
Free classic porch columns
2004.04.14
1997
109 N. River
1888
Italianate 1840 – 1885
Hipped roof foursquare
Wood exterior
2004.04.24
1996
922 Pleasant
1938
Colonial Revival 1880 – 1955
Hipped roof
Brick exterior and detailing
2021.08.11
1996
322 Maple
c. 1854
Italianate 1840 – 1885
Front-gabled roof
Wood exterior
2006.01.14
1996
1007 W. Cross
1921
Craftsman 1905 – 1930
Side-gabled roof
Wood exterior
2004.11
1996
312 Miles
c. 1873
Queen Anne Vernacular 1880 – 1910
Side-gabled roof
Wood exterior
c. 2005
1996
201 Oak
c. 1886
National Folk House 1850 – 1930
Front-gabled roof and wing
Wood exterior
2004.04.24
1996
309 E. Cross
1860
Folk Victorian 1870 – 1910
Front-gabled roof and wing
Wood exterior
Gable vergeboard decoration
2004.04.18
1995
125 N. Huron
c. 1834
Greek Revival 1825 – 1860
Front-gabled roof
Brick and wood exterior
Originally Federal style
2021.10.06
1995
103 S. Huron
1893
Queen Anne 1880 – 1910
Hipped roof with cross gables
Wood exterior and detailing
Hipped front gable end (jerkinhead)
2021.10.22
1995
206 S. Huron
c. 1873
Stick 1860 – 1890
Hipped roof with cross gables
Wood exterior and detailing
Truss and stickwork on front gable
2021.10.22
1995
101 N. Summit
c. 1874
National Folk House 1850 – 1930
Front-gabled roof
Wood exterior
2012.09.27
1995
310 E. Cross
c. 1880
Italianate 1840 – 1885
Front-gabled roof and wing
Wood exterior and detailing
Dominant window pediments
2004.03
1993
504 N. River
c. 1917
Craftsman Vernacular 1905 – 1930
Side-gabled roof
Wood exterior
2004.12.27
1993
56 E. Cross
1850
Italianate Commercial 1840 – 1885
Brick exterior
Windows with hood molding
2005.06.22
1993
108 W. Michigan
c. 1870
Italianate Commercial 1840 – 1885
Brick and wood exterior
Windows with hood molding
2021.11.19
1993
325 E. Cross
1893
Queen Anne 1880 – 1910
Cross-gabled roof
Wood exterior and detailing
Porch spindlework
2004.03
1992
220 S. Huron
c. 1870
Neoclassical 1895 – 1955
Hipped roof
Brick and wood exterior
Italianate to Neoclassical transformation c. 1930
2021.10.06
1992
410 Oak
1890
National Folk House 1850 – 1930
Front-gabled roof and wing
Wood exterior
2004.04.24
1992
310 Maple
1890
Italianate 1840 – 1885
Front-gabled roof
Wood exterior
2004.12.27
1992
416 E. Cross
1873
Queen Anne 1880 – 1910
Front-gabled roof with hipped end (jerkinhead)
Wood exterior and detailing
Porch spindlework
2004.03.22
1992
109 S. Huron
1885
Queen Anne 1880 – 1910
Cross-gabled roof
Wood exterior and detailing
Gable trusses and vergeboard decoration
2021.10.22
1992
316 N. Grove
1896
Queen Anne 1880 – 1910
Front-gabled roof
Wood exterior and detailing
2021.11.19
1991
310 N. Adams
1887
Queen Anne 1880 – 1910
Hipped roof with cross gables
Brick, stone, and wood exterior
2022.03.10
1991
506 N. Adams
c. 1864
Gothic Revival Vernacular 1840 – 1880
Front-gabled roof
Wood exterior
2022.03.10
1991
218 Ferris
1897
Italianate 1840 – 1885
Hipped roof
Brick exterior
2005.04.16
1991
207 N. Hamilton
c. 1894
Queen Anne 1880 – 1910
Cross-gabled roof
Wood and stone exterior
Porch spindlework and square tower
1991
1991
212 Washtenaw
1871
Italianate 1840 – 1885
Hipped roof foursquare
Brick exterior
2021.10.06
1990
510 Pearl
1869
Folk Victorian 1870 – 1910
Front-gabled roof and wing
Stucco and wood exterior
2004.09.18
c. 1990
323 Oak
1892
Queen Anne 1880 – 1910
Front-gabled roof
Wood exterior and detailing
2004.04.24
1990
110 Pearl
1870
Italianate Commercial 1840 – 1885
Brick exterior
Windows with hood molding
2022.03.09
1990
318 Washtenaw
c. 1890
Greek Revival 1825 – 1860
Front-gabled roof and wing
Wood exterior
2022.03.10
1990
230 N. Grove
c. 1868
Italianate 1840 – 1885
Front-gabled roof
Wood exterior
Dominant window pediments
2004.02.25
1989
192 Oak
c. 1915
Craftsman 1905 – 1930
Side-gabled roof
Wood exterior
2012.07
1989
211 N. Huron
c. 1840
Greek Revival 1825 – 1860
Side-gabled roof
Wood exterior
2004.04.18
1989
123 N. Adams
1928
Neoclassical 1895 – 1955
Low-pitched hipped roof
Brick and wood exterior
2021.10.06
1989
20 E. Cross
c. 1865
Italianate Commercial 1840 – 1885
Brick exterior
Windows with hood molding
2021.07.20
1989
227 N. Grove
1861
Second Empire 1855 – 1885
Patterned mansard roof
Brick exterior
Two square towers
2021.08.16
1988
514 Fairview
1932
Tudor 1890 – 1940
Hipped roof
Brick exterior with brick and stone detailing
Hipped roof with front gables
2004.12.27
1987
313 E. Cross
c. 1885
Queen Anne 1880 – 1910
Hipped roof with lower cross gables
Wood exterior and detailing
Square tower
2004.03
1987
427 N. Hamilton
c. 1885
Queen Anne 1880 – 1910
Hipped roof with lower cross gables
Wood exterior and detailing
2022.03.10
1987
321 E. Cross
c. 1860
Gothic Revival 1840 – 1880
Side-gabled with centered gable
Wood exterior
2004.04.18
1987
1119 W. Cross
1926
Colonial Revival 1880 – 1955
Side-gabled with round porch
Wood exterior
2004.11
1987
916 Grant
1927
Craftsman 1905 – 1930
Side-gabled roof
Wood and brick exterior
2021.10.04
1987
111 Perrin
c. 1860
Gothic Revival Vernacular 1840 – 1880
Front-gabled roof and wing
Wood exterior and porch detailing
Gable-end vergeboards decorated
2021.11.08
1987
303 N. Summit-Water-Tower
1889
Commercial Water Tower
Iconic circular roof
Joliet limestone (dolomite) exterior
2021.11.08
1987
35 S. Summit
c. 1842
Queen Anne 1880 – 1910
Side-gabled roof with cross gables
Wood exterior
Gothic Revival conversion to Queen Anne c. 1860
2021.10.14
1986
921 Woods
1940
Tudor 1890 – 1940
Side-gabled roof with façade gable
Stone exterior with slate roof
2021.10.04
1986
114 N. Normal
c. 1890
Queen Anne 1880 – 1910
Cross-gabled roof
Wood exterior and detailing
Gable vergeboard decoration
2003.12
1986
709 Cambridge
c. 1925
Tudor 1890 – 1940
Centered front gable
Stucco exterior with stone detailing
2005.04.09
1986
529 Fairview
c. 1934
Tudor 1890 – 1940
Side-gabled roof with façade gable
Massive stone chimney
2004.12.27
1986
110 N. Hamilton
c. 1915
Colonial Revival 1880 – 1955
Side-gabled false gambrel roof
Siding exterior
2020.10
1986
56 N. Huron
c. 1925
Italian Renaissance Commercial 1890 – 1935
Tiled roof
Brick exterior and detailing
2022.03.09
1986
118 W. Michigan
c. 1852
Gothic Revival Commercial 1840 – 1880
Flat roof
Pointed arched windows
Brick exterior
2021.10.06
1986
18-20 N. Washington
c. 1865
Italianate Commercial 1840 – 1885
Brick exterior
Windows with hood molding
2021.10.06
1986
5-7 S. Washington
c. 1874
Italinate Commercial 1840 – 1885
Flat roof
Brick exterior
2004.08
1986
105 N. Normal
1860
Greek Revival 1825 – 1860
Side-gabled with dominant center gable
Wood exterior
2021.10.20
1985
47 N. Huron
c. 1890
Queen Anne Commercial 1880 – 1910
Flat roof
Brick and wood shingle exterior
2022.03.09
1985
229 W. Michigan-Library
1915
Italian Renaissance Commercial 1890 – 1935
Hipped roof
Stone exterior
Balustrade along roof line
2003
1985
935 Pearl
1922
Prarie 1900 – 1920
Tudor false thatched hipped roof
Stucco and brick exterior
Eyebrow window in roof
2021.09.27
1985
911 Pearl
1929
Tudor 1890 – 1940
Side-gabled roof with façade gables
Brick exterior and elaborate detailing
Stone surround on front door
2021.09.27
1985
311 N. Wallace
1921
Colonial Revival 1880 – 1955
Side-gabled roof
Wood shingle exterior
2004.12.24
1985
325 N. Wallace
1910
Prarie 1900 – 1920
Hipped roof
Wood exterior
2021.09.27
1985
46-50 E. Cross
1859
Italianate Commercial 1840 – 1885
Brick exterior
Windows with hood molding
2005.06.22
1985
1008 Congress
c. 1865
Queen Anne 1880 – 1910
Cross-gabled roof
Wood exterior and detailing
2021.09.15
1985
508 Fairview
c. 1934
Tudor 1890 – 1940
Side-gabled roof with façade gables
Brick exterior and stone detailing
Craftsman eave brackets
2004.12.27
1985
218 N. Adams-Church
c. 1898
Gothic Revival Church 1840 – 1880
Parapeted front-gabled roof with cross gable
Stone and brick exterior
Square tower
2004.12
1984
110 W. Cross-Fire-Station-Museum
1898
Chateauesque 1880 – 1910
Hipped slate roof with parapeted gable
Square tower
2022.03.10
1984
54-56 E. Cross
1859
Italianate 1840 – 1885
Commercial storefront
Brick exterior
2005.06
1984
115 W. Michigan
c. 1874
19th Century Commercial
Brick and stone exterior
2005.06
1984
332 Oak
c. 1860
National Folk House 1850 – 1930
Front-gabled roof and wing
Wood exterior
2004.04.24
1984
96 Oakwood
c. 1920
Craftsman 1905 – 1930
Side-gabled roof
Wood exterior with brick chimneys
2021.10.04
1984
114 Woodward
c. 1895
Shingle 1880 – 1910
Gambrel roof
Wood exterior
Polygonal tower
2004.09.19
1984
7 N. Normal
c. 1848
Greek Revival 1825 – 1860
Hipped roof
Southern style full-façade porch
Stucco and wood exterior
2021.10.20
1983
118 S. Washington
c. 1894
Queen Anne 1880 – 1910
Cross-gabled roof
Free classic porch columns
Cicular tower and garland detailing
2021.10.22
1983
410 W. Cross-Church
1929
Italian Renaissance Church 1890 – 1935
Front-gabled tiled roof
Brick exterior
Arched doorway
2022.03.10
1983
213 N. Adams-Outbuilding
Italianate Carriage Barn 1840 – 1885
Hipped roof
Wood exterior
2021.10.06
1983
209 Oak
c. 1850
Greek Revival 1825 – 1860
Front-gabled asymmetrical roof
Wood exterior
2004.04.24
1983
114 N. River
1855
Octagon 1850 – 1870
Hipped roof
Wood exterior
2004.02.26
1983
301 N. Grove
c. 1844
Gothic Revival 1840 – 1880
Side-gabled roof with centered gable
Wood shingle exterior
2021.11.19
1982
410 N. Huron
c. 1870
Gothic Revival 1840 – 1880
Side-gabled roof with centered gable
Wood exterior
2022.03.09
1982
411 N. Huron
c. 1865
Italianate 1840 – 1885
Hipped roof
Wood exterior
2022.03.09
1982
305 Maple
c. 1870
Queen Anne 1880 – 1910
Symmetric cross-gabled roof
Wood exterior and detailing
Centered square tower
2004.04.18
1982
130 N. Huron
c. 1849
Italianate 1840 – 1885
Hipped roof with cuppola
Centered front gable
Brick and wood exterior
2021.10.06
1982
601 W. Forest-Becker-Stacklewitz
c. 1885
Queen Anne 1880 – 1910
Cross-gabled roof
Wood exterior and detailing
Massive round tower
2021.11.08
1982
124 Pearl
c. 1922
Italian Renaissance 1890 – 1935
Flat roof
Brick with stone detailing
Round arch around recessed entry
2022.03.09
1982
214 N. Huron
c. 1855
Italianate 1840 – 1885
Hipped roof
Wood exterior
2021.10.06
1981
220 N. Huron-Museum
1860
Italianate 1840 – 1885
Hipped roof with frieze windows
Brick exterior
2021.10.06
1981
138 Hawkins
1896
Queen Anne 1880 – 1910
Cross-gabled roof
Wood exterior and detailing
2021.08.16
1981
118 S. Huron
c. 1843
Greek Revival 1825 – 1860
Front-gabled roof and wing
Wood exterior
Italiante window drip molds
2021.10.22
1981
501 Pearl
c. 1911
Prarie 1900 – 1920
Side-gabled roof
Brick and stucco exterior
2004.12.27
1981
206 N. Huron
1860
Italianate 1840 – 1885
Hipped roof with modillions on cornice
Brick exterior with wood detailing
Georgian roof balustrades
2021.10.06
1980
300 N. Huron
1860
Second Empire 1855 – 1885
Patterned mansard roof
Brick exterior
2022.03.09
1980
103 N. Adams
c. 1870
Gothic Revival 1840 – 1880
Cross-gabled roof
Decorative vergeboards at gable ends
Brick exterior with wood detailing
2021.10.06
1980
203 Arnet
c. 1925
Craftsman 1905 – 1930
Hipped roof American foursquare
Wood exterior
2020.10
1980
39-41 E. Cross
1870
Italianate Commercial 1840 – 1885
Flat roof
Brick exterior with brick and stone detailing
2004.04.18
1980
76 N. Huron
1909
Italian Renaissance Commercial 1890 – 1935
Flat roof
Brick and stone exterior
Stone entrance and horizontal courses
2022.03.09
1980
201 N. River
1926
Gothic Revival Church 1840 – 1880
Cross-gabled roof with parapets
Stone exterior
Parapeted gables and castellated square tower
2004.12.27
1980
409 N. Adams
c. 1895
Queen Anne 1880 – 1910
Cross-gabled roof
Wood exterior and detailing
Porch spindlework
2022.03.10
1979
323 Maple
c. 1893
Queen Anne 1880 – 1910
Cross-gabled roof
Wood exterior and detailing
2004.12.27
1979
328 E. Cross
1891
Queen Anne 1880 – 1910
Cross-gabled roof
Wood exterior and detailing
2004.03.22
1979
315 N. Grove
1896
Queen Anne Vernacular 1880 – 1910
Front-gabled
Wood exterior
2021.11.19
1979
109 Catherine
1850
Italianate 1840 – 1885
Hipped roof foursquare
Wood exterior
2005.03.19
1979
118 College-Pl
c. 1865
Italianate 1840 – 1885
Side-gabled roof with center gable
Stucco exterior with wood center gable
Italianate sloping window pediments
2004.03.13
1979
116 Maple
c. 1883
Queen Anne 1880 – 1910
Cross-gabled roof
Wood exterior and detailing
Square tower and prominent window pediment
2021.08.16
1979
943 N. River-Caretakers-House
c. 1865
1979
119 S. Washington
c. 1860
Queen Anne 1880 – 1910
Hipped roof with cross gables
Brick with wood detailing
Possible Italianate conversion to Queen Anne
2021.10.22
1979
600 N. River
1903
Queen Anne 1880 – 1910
Cross-gabled roof
High style stone and wood exterior
Circular tower
2004.04.24
1978
221 S. Washington
1860
Italianate 1840 – 1885
Hipped roof
Brick exterior
2004.04
1978
120 N. Huron-Church
1858
Gothic Revival Church 1840 – 1880
Parapeted front-gabled roof
Brick and stone exterior
Square tower with castellations
2022.03.09
1978
120 N. Huron-Rectory
c. 1858
Gothic Revival Church 1840 – 1880
Parapeted front-gabled roof
Brick and stone exterior
Square tower with castellations
2021.11.19
1978
411 N. Adams
c. 1895
Queen Anne 1880 – 1910
Hipped roof with cross gables
Wood exterior
Free classic porch columns
2004.06
1978
501 N. River
c. 1840
Greek Revival 1825 – 1860
Front-gabled roof
Wood exterior
2004.12.27
1978
209 N. Summit
c. 1860
Second Empire 1855 – 1885
Mansard roof
Wood exterior
2021.06.24
1978
52 E. Cross
c. 1850
Italianate Commercial 1840 – 1885
Brick exterior
Windows with hood molding
2004.02.03
1977
218 N. Washington
c. 1842
Greek Revival 1825 – 1860
Front-gabled roof
Brick and wood exterior
Square Doric porch columns
2021.07.20
1977
415 N. Huron
1860
Italianate 1840 – 1885
Hipped roof
Wood exterior
Elaborate hooded window detailing
2022.03.09
1977
209 Washtenaw-Church
1891
Gothic Revival Church 1840 – 1880
Steeply pitched front-gabled roof
Brick exterior
Rectangular towers
2004
1977
415 N. Huron-Outbuilding-TackHouse
1879
Italianate 1840 – 1885
Hipped roof
Vertical wood external siding
2022.03.09
1977
511 N. Prospect
c. 1885
Folk Victorian 1870 – 1910
Front-gabled roof
Wood exterior
2004.12.27
1977
207 N. Washington
c. 1880
Italianate 1840 – 1885
Asymmetrical hipped roof
Brick and wood exterior
Queen Anne spindle porch and modifications
2021.10.06
1977
303 N. Huron
1837
Greek Revival Vernacular 1825 – 1860
Front-gabled roof
Wood exterior
Gothic Revival porch
2021.10.06
1976
119 N. Huron
1892
Richardsonian Romanesque 1880 – 1900
Flat roof
Stone façade, brick exterior
2021.10.06
1976
121 N. Huron
1871
Italianate 1840 – 1885
Front-gabled roof and wing
Brick and wood exterior
Italian Villa square tower
2004.04.18
c. 1976
106 N. Adams
c. 1890
Stick 1860 – 1890
Front-gabled roof
Wood exterior and detailing
Gable apex trusses
Stickwork most likely removed
2021.10.06
1976
202 S. Huron
1830
Federal 1780 – 1840
Side-gabled roof
Brick exterior
2021.10.22
1976
300 N. Washington-Church
1857
Greek Revival Church 1825 – 1860
Front-gabled roof
Brick and masonry exterior
Symmetrical façade with twin towers
2021.07.20
1976
29 S. Huron
1850
Italianate 1840 – 1885
Hipped roof foursquare
Brick exterior
2021.10.06
1976
212 S. Huron
c. 1903
Tudor 1890 – 1940
Side-gabled roof with façade gables
Unusual stone exterior
Half-timbering around top window
Decorated vergeboard on front gable
2021.10.22
1976
111 Pearl
c. 1890
Richardsonian Romanesque 1880 – 1900
Flat parapeted roof
Stone exterior
Rounded second story windows
2021.11.19
1976
9 N. River
1883
Italianate 1840 – 1885
Hipped roof
Siding exterior
2004.04.24
1976
201 N. Washington
c. 1869
Italianate 1840 – 1885
Front-gabled roof and wing
Brick exterior
Queen Anne spindlework porch
2021.10.06
1976
Updated October 16, 2022 by Paul Schreiber (paulschreiber@comcast.net)